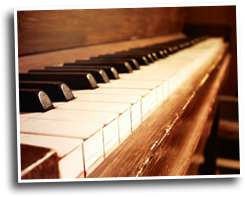 Music is an important instrument to edify the believer and bring honor and glory to God.
The Lord has blessed Great Hope Baptist Church with many musicians that minister through music in our services. The music of Great Hope Baptist Church is designed to prepare our hearts to hear the preaching of God's Word. Paul says in Col. 3:16-17, "Let the word of Christ dwell in you richly in all wisdom; teaching and admonishing one another in psalms and hymns and spiritual songs, singing with grace in your hearts to the Lord. And whatsoever ye do in word or deed, do all in the name of the Lord Jesus, giving thanks to God and the Father by him."

Whether it is the adult choir, orchestra, instrumentalists, soloists, various ensembles, or children's choir, our goal is to bring glory to the Lord Jesus Christ. Paul says, "Speaking to yourselves in psalms and hymns and spiritual songs, singing and making melody in your heart to the Lord" (Eph. 5:19).